KERO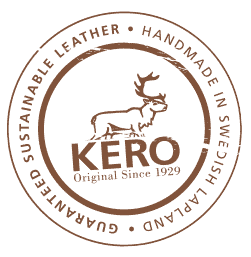 The KERO company has a long and solid history. Yrjö Kero founded the company in 1929 together with Karl Wälivaara and made it his life's mission to create the thriving company that developed into the still-thriving company culture in the small village of Sattajarvi, 20 kilometres south of Pajala in Sweden Lapland's far north.
Yrjo started the business with a tannery in 1929 and expanded it with a shoemaking section in the 1950s. In 2005 the company was divided into two parts, the tanning operations now in Kero Leather AB, and shoemaking and production in Kero AB.
Today Kero AB is owned by three related owners from three different families. The owners of Kero AB are Emma Kero, Erik Kero, Per-Enok Kero.
Business concept
"To offer unique handcraft products in natural materials with high quality, and reliable and fast delivery."
Vision
Our vision is to reach out in a more effective way to our customers and to create two-way communication. We will actively address ideas and opinions from customers about how we can improve our business and our products.
This category is empty! Please try another category or use our search function to find what you are looking for. If you require further assistance please contact us.